Mikaella's Fall Winter 2022 Collection Brings Sophistication to Minimalist Styles
Simple does not mean boring, and the Mikaella Fall Winter 2022 Collection is here to prove it. An air of sophistication has been added to eleven minimalist gowns through clean, elegant lines, thoughtful lace placement, and a new structured but simple fabric that brides are sure to fall in love with this season.
The newest collection from Mikaella introduces a gorgeous fabric to the mix: Satin Faille. This fabric provides structure as well as fascinating surface interest – this fabric is vital to creating the clean lines and voluminous skirts of Styles 2400, 2403, and 2409. The firmness of the fabric holds the shape of the Style 2400 and 2409 ball gowns flawlessly, and also emphasizes the subtle drama of the skirt slit on Style 2403 without feeling too heavy for all day wear. The separate puff sleeves on Style 2403 take full advantage of this wonderful fabric, as well.
Satin Faille is not the only fabric that can pull off clean lines – our oh-so-soft Crêpe is as versatile of a material as it is ultra-comfortable. The soft stretch of this fabric is great for chic fitted gowns like Styles 2405 and 2408. Both beautiful Crêpe wedding dresses are designed for the modern bride looking for a sleek wedding day look, but each features a contrasting neckline style. Mikaella Style 2405 offers a fresh off-the-shoulder bodice (which can also be worn strapless with pleats snapped in the back) for brides looking for an avant-garde spin on bridal style. Style 2408 on the other hand, features a modest jewel neckline, tasteful cap sleeves and a keyhole back for a demure take on a form fitted wedding dress. Style 2411 blends a traditional bateau neckline with a playful full side slit skirt for the best of both worlds.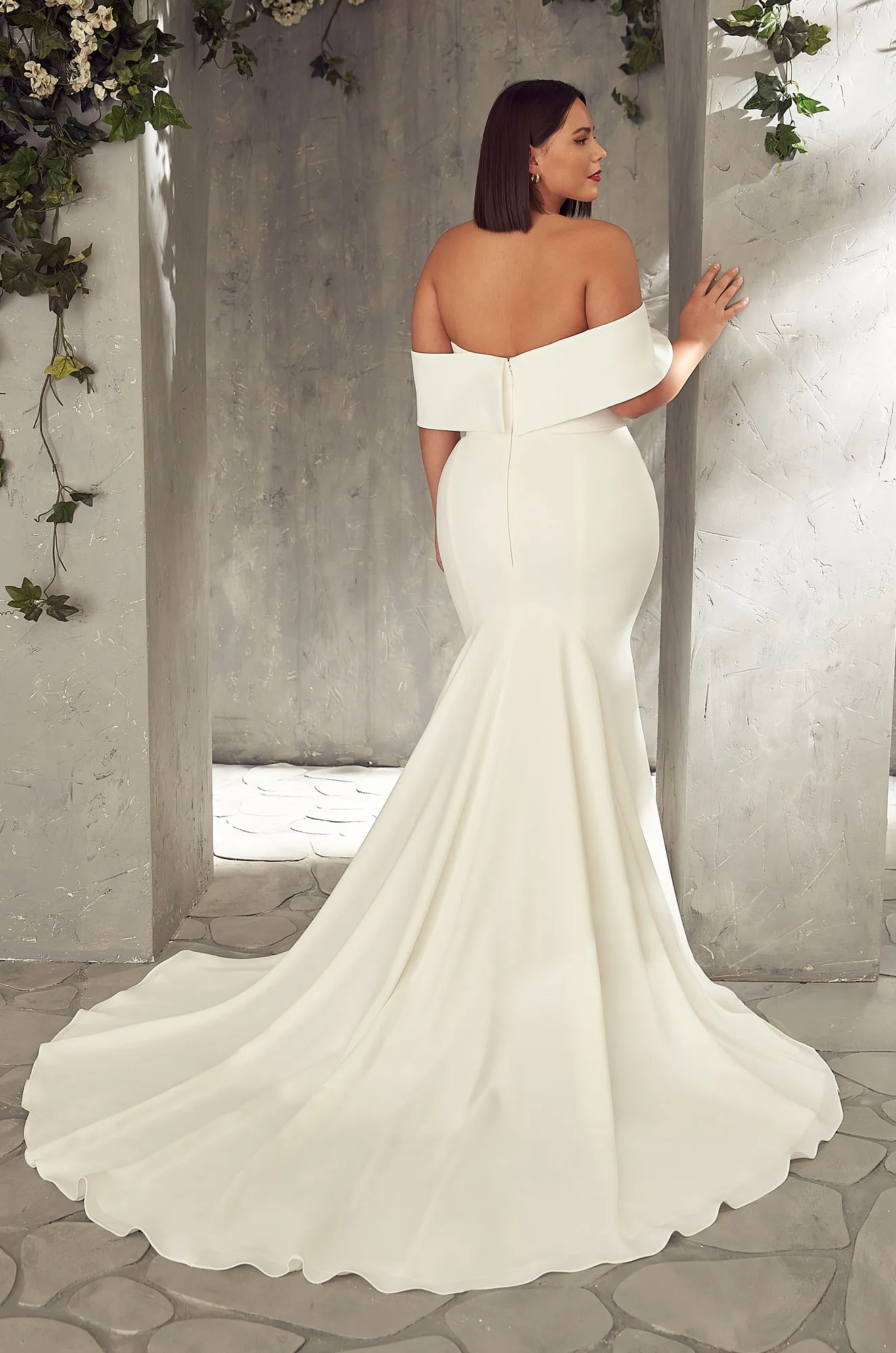 Brides with a love for lace have not been left out this season either – a number of these minimalist wedding gowns include a touch of enchanting lace detail. Lace cutouts on the sides of Style 2401 cinch the waist of this fitted gown, and the pleated cap sleeves further accentuate an hourglass figure. The front and back necklines of Style 2402 are embellished with a hint of Guipure Lace, just enough to add an air of extravagance to this polished Crêpe look. Style 2404 may seem plain from the front, but detachable Chantilly Lace draped sleeves, a delicate sheer lace back, and lace overlay on the train make this gown exquisite from every angle. Our all-lace Style 2410 is the perfect destination wedding dress for jet-setting brides, there will be no issue getting this simple but alluring lace gown packed! And no collection would be complete without a classically romantic wedding dress, and Style 2406 delivers. A traditional sweetheart neckline and cap sleeve bodice has been elevated with sparkling sequin lace and placed upon a full Organza skirt fit for royalty.
The Fall Winter 2022 Collection from Mikaella demonstrate that expert design and high-quality fabrics are the foundation of a perfect wedding dress, no matter how understated or opulent the end result may be. Mikaella wedding dresses are designed and produced in the same facility as their sister company, Paloma Blanca, in Toronto, Canada. This way, we can ensure the outstanding quality of every gown. Mikaella gowns are available at over 200 bridal boutiques worldwide.
Share this story, choose your platform!